The CTPAT standard is more than a simple certification.
In fact, this standard is a true promise of quality and especially of product safety. It was first implemented by the United States for exporting goods on their territory and for fighting against acts of terrorism. Consequently, all goods entering on American territory with a CTPAT certification are totally exempt from any potential alteration.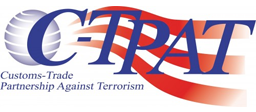 This certification requires a change in behaviors and a perfect management and control of site security. Therefore, this standard implies the implementation of a strict safety policy and will guarantee that your clients receive unaltered goods. These new implementations will be audited by Commissioners of Oaths in order to control your new infrastructures.
The advantage of grilles and safety screens :
Security Grilles allow you to install interior and exterior barriers that will rigorously control the entry and exit of your personnel and goods. Implementing this kind of safety system ensures a total control which is the main purpose of the C-TPAT standard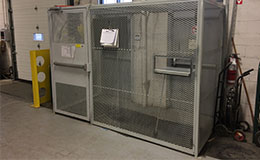 Ground level windows, doors or other street level access are all exposed to risks of breakage and are vulnerable to intrusions. To eliminate those risks, we offer different solutions, such as:
Interior or exterior entry ways (simple or double doors).
Accordion screens. This solution allows you to open loading dock doors and ventilate the warehouse
Cette solution permet une ouverture des portes du quai de chargement ainsi qu'une aération de l'entrepôt.
For more information : Security screens ans security cage page